Troubling Transitions

The framing for an attic space with dormers and odd roof lines is not exactly square or proportionate. What can be done to bring balance and symmetry to the space so that it doesn't look slipshod?
The solution to this problem lies in the art and science of drywall. Expert planning and the precise placement of wallboard and bead lines come together in a finished product that shouts creativity and professionalism. When we're finished with the space no one will ever guess there was a problem to begin with.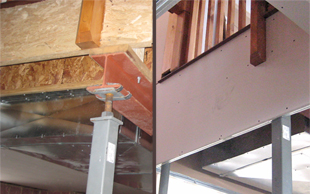 Attic Finishing
This newly constructed post and beam home is roughly framed with mismatched ceiling heights and stair landings but needs clean transitions between natural wood and wall space. Furthermore, utilities and steel framing valances need to be hidden.
A clean, professional transition from natural wood or stone surfaces to wallboard takes the skill of a master craftsman. Not only do we at Orillia Drywall have that skill, but we're also adept at creatively managing those unsightly details so that they look like they were planned that way all along.
Outdated Ceilings
The ceiling is covered with flaking popcorn texture. How can it be updated to something smoother and more modern?
Getting rid of outdated popcorn ceilings is no trouble for us. We're able to level it and prepare it for wallboard by placing a resilient channel strapping over the top of the existing ceiling popcorn texture. Once the wallboard is fixed to the strapping it's ready for the finish of choice—a flat finish or the California Knockdown texture are popular. Often, crown moulding is also added to dress up the room.
Moulding Return
If you have crown moulding in one room, but don't want to carry it through to an adjoining one, how is the transition handled?
We handle this with what we call a return. Not only does it cap the moulding nicely, but it's decorative, too!
Contact us!
We'll answer in one business day
Solve the math problem to prove you're human!